Linux For Normies (from a normie's point of view)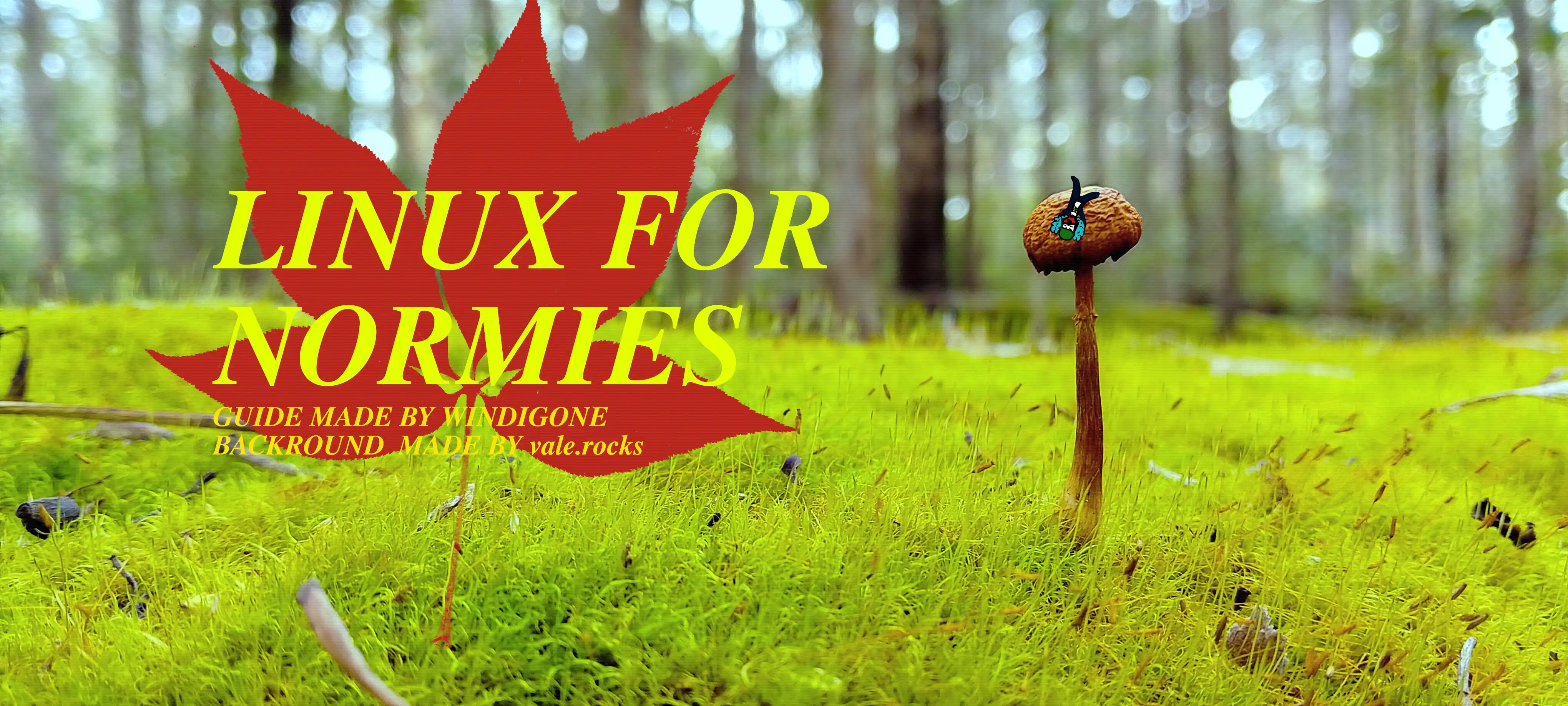 Image made using Pinta, drawn with a mouse.
Context for myself and my relation towards linux: I am normie (in a sense). I still have Windows installed on another machine to play triple A games or for the purpose of video and photo editing (Photoshop, Sony Vegas and other such programs that are Windows-exclusive or at least not available on Linux). I may still be dependant on Windows in some capacity but I try my best to learn more about 'Linux' regularly. There is never a limit to learning and we will continuously learn and grow. (I have never used iOS nor macOS)
Context for the more "Linux-savvy people": Although, I use 'Linux' to this day as my main 'system', in fact I use Endeavor OS with BSPWM installed on it. I've been experimenting with 'Linux' for almost two years. I have a rudimentary understanding of basic terminal terminal commands. I experimented with many distros, such as: Solus, Void, Arch, etc. I plan on trying out BSD or even older UNIX-based OSes.
This article is leaning more on telling rather than showing. I will mostly give you a few recommendations and tips but you will have to take the big leap and learn the basics by yourself.
Table of contents
I. Introduction - Why Choose Linux In The First Place?
Because Linux is about freedom. You have a choice that other operating systems may not offer you. You can customize a 'Linux system' in any way you want, install or remove any kind of software from it, micro-manage the tiniest details.
It's not just a 'nerds' thing, it's a thing for anyone who is willing to at least give it a chance. The Linux community has evolve a lot in the past decade. So much so that Linux is almost trivial to operate by the humble users who purely want a 'Windows' or 'macOS' experience.
There are many of tutorials on Youtube which are really easy to comprehend and will help you get started quite easily. Linux is also known for being lightweight on resources out-of-the-box for both older and modern computers.
The journey of learning how to "use" Linux may seem hard and chaotic at first but as long as you're willing to put the time and effort into learning some basic things, you will be able to overcome such difficulties. If you are unsure whether or not Linux is for you, I'd highly endorse just trying it on a virtual machine.
II. What Basic Knowledge Do You Need In Order To 'Understand' Linux? (And Some Additional Tips)
I compiled a Linux vocabulary below, I hope that it will help you understand just enough basic terms used in the Linux community.
Some terms may not be useful for your journey so feel free to skip anything that doesn't catch your eye.
(just CTRL+F any term that seems strange during your read)
It really depends on your needs. Certain people use it because it's not as bloated as Windows or just to experiment with something new and unknown.
I will make a few specific categories for very specific categories of users who might wish to migrate to Linux.
What to expect - another introduction
Terminal - this is where you might spend most of your time on Linux. Instead of using GUIs (Graphical User Interface), the average Linux user often has to insert
commands into a terminal. (Don't dwell on it, you won't have to use it if don't want to. But don't expect to have an GUI for everything.)
Software and drivers issues - You won't be able to run software specifically made for Windows/Mac OS so well. (Mac OS is UNIX based, not Linux based.).
Wine can run Windows applications, sometimes quite well, but other times it doesn't work at all. Bottles is a more recent project made for running Windows software, I haven't tested it.
You could likewise use an emulator such as QEMU which runs pretty well but it requires some tinkering and patience.
The out-of-the-box experience is easier to find than you'd expect. There are distros purely dedicated to being user-friendly and easy to use. (Which means you won't have to use the terminal most of the time.)
Alas, the most laking feature in Linux is the lack of popular software that people use on Windows.
It's easy to find alternatives but the hardest part is getting accustomed to it. I will cover that issue soon for each category of user I could think of.
For those who are more tech-savvy and want a challenge, well Linux does in fact offer a challenge. You will have to get accustomed to using the terminal, keybindings and most likely the ugliest GUIs you've ever seen or no GUI at all 99% of the time.
Tinkering with your 'Linux desktop' and learning everything that you want to learn might take some time especially if you're not the type to read instructions, it's such a blast and pretty worth if you have the free time.
(Get ready because by default you will throw away every PC/laptop you own and acquire a ThinkPad, just kidding.)
The Arch wiki has a list full of available software for Linux so make sure to check it out in case I do not provide enough information.
a. The People Who Don'T Often Use A Computer
(People Who Use Computers For Trivial Things But Still Know A Few Basic Things Like Installing Applications)
Even though several Linux distributions were built to be more user friendly, this path will make you rely on other people's software. Be careful with what you choose to use.
With that out of the way, there are many great distros you can choose from. I highly encourage choosing a distro which is widely used since it has more hardware support and a good deal of software to offer.
For example, Ubuntu and its derivates have a software centre which makes installing packages a lot easier. It also comes with a straightfoward installer.
Once you're done with the installation, by default most of your needed software/drivers have already been installed. Except for the software you want of course. 90% of Linux distros will have Chrome or Firefox by default, a good file manager, video player and other apps you will need.
Things may work very differently than how it did back when you were using your preffered OS but with time you will get accustomed to it. As long as you don't dive head-on into something and panic, you will likely not have many issues on Linux.
b. Someone Who Is Actually Tech-Savvy But Never Used Linux.
You will have to do a lot of reading. That is all I could say really. A few helpful resources to get you started have been listed at the end of the article.
c. The Gamer
Depending on the game you want to run, a handful of games feel like they run natively but others won't even run at all. (Which might require running an emulator. Don't worry much about my warning because the Linux community cares about gaming.)
There are gaming-centered distros for the Ultimate Gaming Experience TM but you will still face a lot of issues which will have to be handled manually.
More specifically, you will face a lot of issues if you don't use Steam.
Steam has a compatibility tool called Proton that allows you to run Windows games on Linux almost flawlessly. It's not perfect but it's there. (Some games run only using older versions of Proton, so be careful. Additionally, I'd recommend checking these sites for checking how well a game can run on linux: protondb lutris )
Another great thing from Proton is the Easy Anti-Cheat support (you can run games like DBD and Apex Legends). I would recommend installing steam tinker launcher for any other extra modifications. (i.e installing Vortex or a custom version of Wine)
Other platforms don't support Linux at all, unless the developer made the game compatible. It's especially difficult to run multiplayer games, but not impossible.
Grapejuice is a wrapper that makes it possible to run Roblox. (both App and Studio) It performs spectacularly well.
Other dedicated programmers made their own wrappers: Heroic Games Launcher for Epic games, Minigalaxy for Gog Galaxy, Itch for itch.io.
With the exception of Valve, no other gaming company tries making their anything compatible to Linux.
There is also Lutris which is able to run games from multiple launchers. (including the afformentioned and more. It used to run Overwatch 1 pretty smoothly.)
The drivers and the process of improving Linux for gaming might get troublesome for those who lack technical knowledge.
It's usually better to have an AMD GPU/CPU since it's better supported on Linux than anything from Nvidia and/or Intel. (Nvidia has proprietary drivers and many Linux users despise the fact, thus getting you stuck using the lousier nouveau driver depending on your distro. )
Not to worry because the internet is full of tutorials which will help. (e.g. This guide on Steam )
Overall I recommend installing a well-known distro with a lot of packages since it has better support for gaming.
Be careful in case you might need proprietary drivers, some linux distros DO NOT support proprietary drivers at all.
Addendum: For the gamers who use RGB devices exclusively and want a GUI for modifying their lights, there's openRGB (likewise available on Windows) A
lso, there are other open source alternatives, especially for razer device.
Moreover, I would suggest checking out QEMU along with KVM for emulating games. ( This video is a great example - it performs quite well, admittedly the user has an above average setup.)